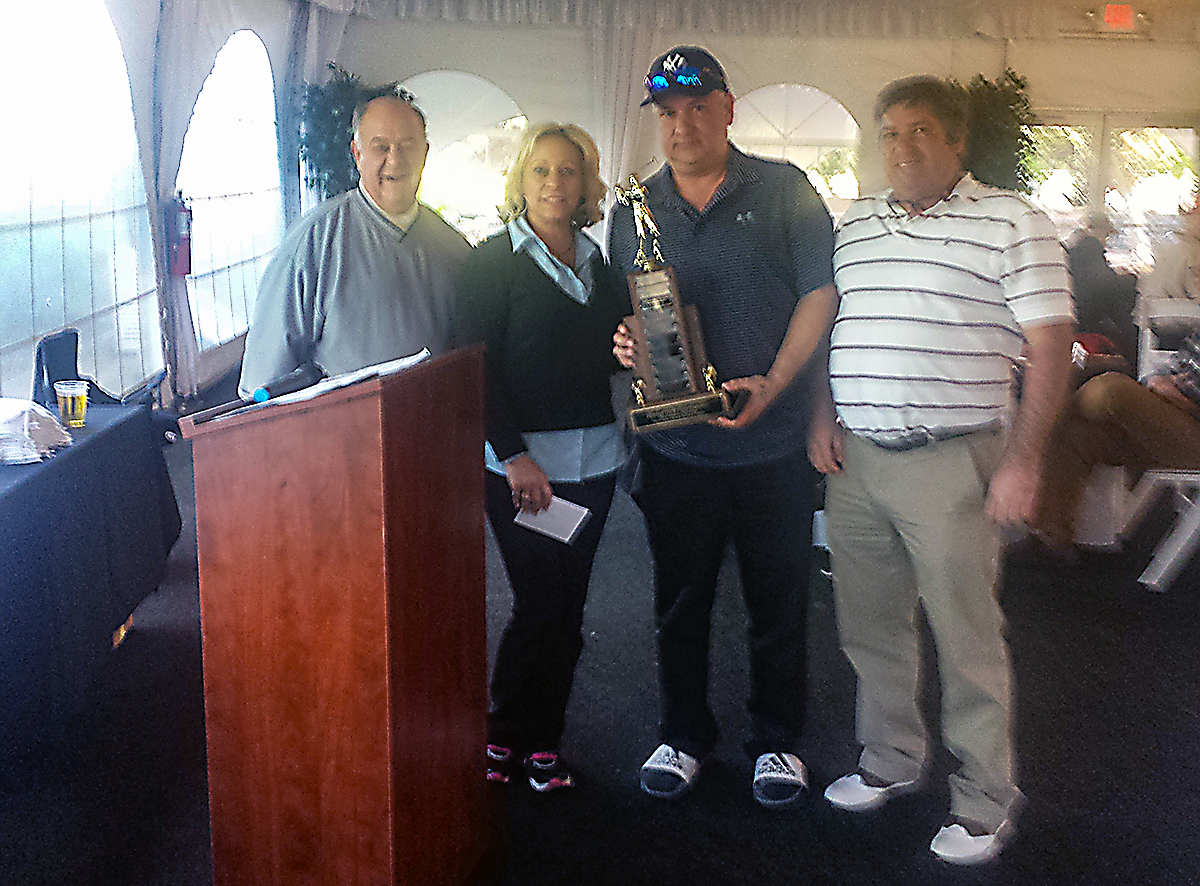 Masonry Contractors of New Jersey held its 24th Annual Golf Outing at the Royce Brook Golf Club in Hillsborough, New Jersey on May 8, 2017. This was the Association's second year at Royce Brook and it was another great success! Royce Brook, a Steve Meyers Design, managed by Billy Casper Golf, is an Audubon Sanctuary Course located in the heart of Somerset County, and features two acclaimed courses. The private, rugged West Course ranked in Golf Digest's Top 20 and, the public, parkland East Course, routed through abundant forested areas and wetlands, achieved Golf Digest's four star rating!
Due to an upswing in our industry, attendance was higher than previous years and, fortunately, this year it didn't rain but the high winds kept everyone on their toes! The course was beautiful, the food delicious, and the event was enjoyed by all.
The day concluded with a delicious banquet as the awards were presented by Vinnie Barilotti of Lehigh Cement. First place went to Steve West and Damian Vazquez from American Art Stone and Shawn Roney from Innovative.
Second place went to Michael Schmerbeck, Joe Acchione and John Fajnor from Back Brook Masonry.
Third place went to Tony Gambino, Jeff Hansen, Joe Mizeski and Bill Rutherford from Diener Brick.
Masonry Contractors of New Jersey dedicated this year's outing as a fundraising drive towards a worthy cause, St. Jude Children's Research Hospital. The Association pledged to donate $50 from the cost of each golf registration and $25 from the cost of each dinner reservation. Our goal was to raise $1,500. We are very pleased to report that not only did we reach our goal, it was surpassed by $2,000 and the Association was able to present St. Jude Children's Research Hospital with a donation of $3,500! This donation will be used to purchase 35 wagons which are used to transport patients from treatment room to treatment room in a more comfortable manner.
We thank all of those who were able to attend and those who sponsored the event for your support. We look forward to planning another successful outing and seeing you in the spring of 2018. Next year we will set our goal at $5,000 and hope you will help us reach that goal for St. Jude Children's Research Hospital!