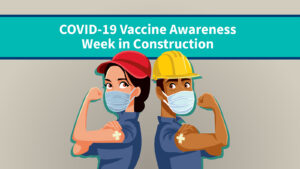 Vaccine Awareness Week in Construction, April 19-23, 2021, is a campaign to raise awareness of the safety, effectiveness, and benefits of COVID-19 vaccination among construction workers. The CDC recommends that all workers in the U.S. get vaccinated against COVID-19 as soon as they are eligible to end the pandemic and help Americans return to their normal lives.  Learn how you can get a COVID-19 vaccine at cdc.gov/coronavirus/vaccines.
The IUBAC and ICE encourage members and contractors to access the COVID-19 Vaccines. Read the statement released on March 31, 2021
Please join the Construction Industry Safety Coalition (CISC) and the National Institute for Occupational Safety and Health (NIOSH) for a special webinar for COVID-19 Vaccine Awareness Week in Construction. Scott Earnest, PhD, PE, CSP, Director, NIOSH Office of Construction Safety and Health will provide an introduction and Dr. Margaret Kitt, MPH, MD, Deputy Director at NIOSH, will share information on what we know about the current COVID-19 vaccines, when and & how construction workers can get vaccinated, and address your questions.  
REGISTER HERE