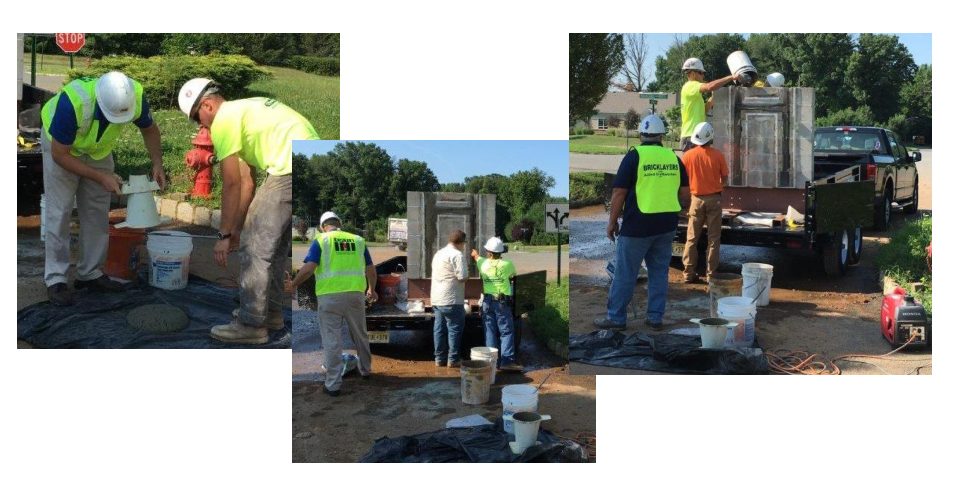 On Wednesday, August 8th, Dan Siteman, IMI, together with NJ BAC Training Coordinator, Bob Alesandro and NJ BAC Local 5 Instructor Ren Engelhardt, mobilized and delivered jobsite grout training.
As reported by Dan Siteman:  "The next innovation of the built environment is not a new material or application, but the implementation of more stringent quality assurance.  More often, designers and specifiers are requiring a basic level of competence, even specialized training for project applications.  The International Masonry Institute (IMI), partnered with the International Union of Bricklayers and Allied Craftworkers (BAC), develops unequaled training programs at our National Training Center in Bowie, MD and delivers them locally at our regional training centers across North America.
It is important that architects understand the value of load-bearing masonry and have a qualified crew perform the work.  Grouting and Reinforced Masonry Construction training can be included in project specifications.
The importance of recognizing a proper slump rating for workability and strength, using the appropriate calculated lap lengths, and ensuring consolidation with re-consolidation of grout were highlighted.  The training was capped with a hands-on demonstration and discussion of project specifics."
Pictures of the event can be viewed in our gallery:   https://www.mcofnj.org/events-gallery/