The annual Masonry Design/Build Competition, sponsored by Masonry Contractors of New Jersey, has played an important role in the students' academic pursuits as part of the NJIT CoAD curriculum since 2003.   This year more than seventy students on five teams had the unique opportunity of linking their design ideas with hands-on experience while collaborating with masonry professionals and craftworkers.
On April 7th and 8th, students were mentored by masonry professionals as they spread mortar, laid brick, and built a "Folly" using the theme "Temple of Freedom".  The students investigated the use of masonry through the history of architecture from ancient Rome to contemporary times; however, the main goal was the speculation about the future of masonry.  By working directly with craftworkers the students were able to gain a better understanding of the masonry trade, a lesson we expect they will remember throughout their careers.
We were privileged to have an esteemed panel of judges evaluate the build "Follys", design boards and student presentations.  The winning teams were announced at an awards banquet on April 16th.  The judges critiqued each Folly asking challenging and probing questions regarding each teams design inspiration which prompted an impressive dialogue with the students.
The presiding judges: Caryn Halifax, President – International Masonry Institute; Alan Chimacoff, AIA Principal – Ikon 5 Architects; Jesse Lecavalier, Associate Professor, Principal – Lecavalier R&D; Carlos Jimenez, Principal, Designer – Carlos Jimenez Studio; Will Prince, Adjunct Professor, Principal – Parc Office; Gernot Riether, Director – NJIT CoAD; Georgeen Theodore, AIA, Director, Infrastructure Planning, Associate Professor – NJIT CoAD, Principal – Interboro Partners; Michael Schmerbeck, President – Back Brook Masonry, Masonry Contractors of NJ, ICE of BAC, Co-Chairman – International Masonry Institute; and Anthony Schuman, Interim Dean – NJIT CoAD.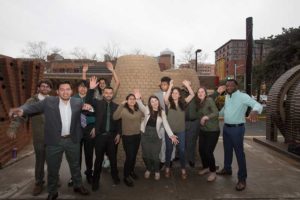 Master Mason and Tectonic Awards: The project that demonstrated the best understanding of brick construction as a tectonic material and addressed all of the project's requirements were awarded to Team Green.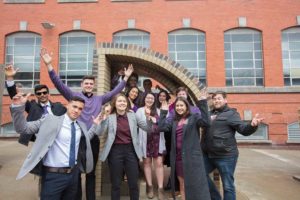 Technique Award:  The project that best demonstrated innovation in the aggregation of brick in the composition of the "Folly" envelope was awarded to Team Purple.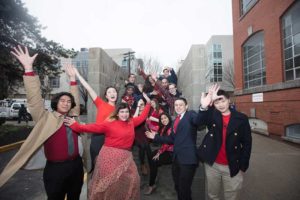 "Folly" Award: The project that focused the most on architecture's ability to provide free and additional spatial gifts from nature was given to Team Red.
Testimonials from 2nd year architecture students who participated in the build:
"I am currently an intern at an architectural firm that often deals with brick construction.  Now, thanks to my new knowledge of the material, I can become more involved in the conversations and actions taken at work."  Matthew Moran
"As an architectural draftsman who does schematic and construction drawings, I have the ability now to draw much more concise, clear details of the brick and apply the detailed technique of the craftworker."  "My experience was unique in the sense that you have to create a clear relationship with your workers in order to have a precise structure.  The drawings need to be clear and you need to be able to do conversions in inches very quickly.  My professor is now including a skill to know what masons look for and need in the drawings."   Lillian Ormeno
"Working side by side with the masons taught me a lot about how construction flows with architects and contractors working together.  It definitely taught me mutual respect is a must to get the job done."  Alin Rahman
"Participating in the Masonry Design/Build Competition meant so much to me.  It gave me a glimpse of how it will be in the real world.  Seeing something that you and your team designed being built was an awesome experience."  Paola Gonzalez
"Masonry is here to stay.  As a student studying architecture it was good to learn how to use this medium and to understand the tectonics."  Therapon Georgion
Testimonials from staff:
"The arches that the students designed this year were more challenging structurally than most of the projects in the past, but it worked out very well.  A lot of thought and artistic ability went into designing it.  In my opinion, a student who is in this program will learn to love brick and masonry and give more work to the masonry trade moving forward for generations to come."  Tom Parsons, Foreman, Back Brook Masonry
"I want to mention the generosity of Masonry Contractors of New Jersey and why would they do this?  They do this because they want to make sure that our students have a direct experience with what you can do with masonry materials.  Brick is the oldest building material in the world and it is still here.  Of course it is being challenged all of the time because anyone can build a store front out of glass and steel.  What's in it for the masonry industry is that these students will graduate and a lot of them will work in New Jersey.  If they design a building and say "Well, I remember we can make a really fabulous wall out of masonry here instead of some other material…", that is the payback for the industry."  Anthony Schuman, Interim Dean, NJIT CoAD